2011 Retrospective: Portrait of Garrus Vakarian
When some people asked if I could create Garrus, I finally accepted the challenge.  Garrus is one of my favourite characters from Mass Effect, and I know that making him would put me in alien territory (bwaha see what I did there? :P)
Hoo boy that was understatement.  Thane Krios was a walk in the park compared to him.  
My main challenge was the anatomy.  Ok, let me backtrack a bit: It's not enough for me to make Garrus the way we see him in the game, i.e., in his armour.  I needed to create him from scratch and for me that means creating him NAKED.  And with that in mind I looked at BioWare's Turian concept art for reference:
The concept art helped a bit but mostly it generated more questions, especially around the chest area: Which parts were the exoskeleton and which ones were the fleshy bits?  I just didn't understand it.  In order to make some sense of it I tried to imagine what a turian skeleton looked like and referred to actual dinosaur and bird skeletons for inspiration.  It was tough considering biology isn't my forte. I had no idea what the fuck I was doing and I was beginning to over-think things XD  Anyway finally I managed to create this:
Next on the agenda was the texturing.  At least here I was in a more comfortable territory, but not quite.  Turian blood is blue in colour so I had to take that into consideration when creating the skin because the overall look of this texture is determined by combining several layers which represents the muscles, subdermis and epidermis.  Eventually I came up with this: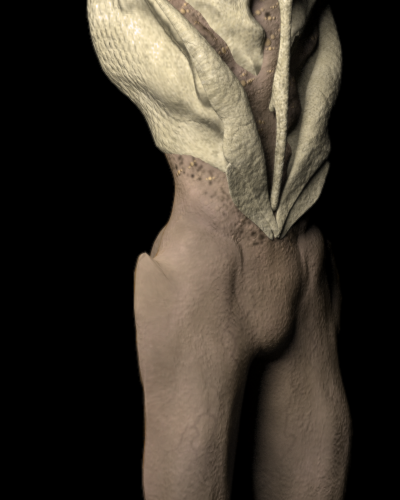 It was then that I realised that my exoskeleton, nay the whole anatomy was a major FAIL but I was truthfully getting tired of working on Garrus.  I then decided to render the portrait shown at the top of this post - which cleverly hides the rest of the anatomy - and take a break.
What I liked: The one thing that I was satisfied with was the texture.  I've done all I could at the time to make it believable.  Of course now that I look at it again, I know it can still be improved :)
What I didn't like: Ugh everything else, especially the anatomy :P  I really need to go back and redo it because I don't like leaving things unfinished.  Besides I have plans with my Garrus model, big plans XD  I really have to work on it.
What I could've done differently: Have I already mentioned about the anatomy? I really need to redo the anatomy.   
I intend to do an improved Garrus model very soon.  It might take me a while to finally show it though.  At least this time around I've got a sculpture teacher who can comment on the anatomy XD
Here are the links to my other retrospective posts:
Victorian Catgirl (a character inspired by Tim Hart's upcoming graphic novel "Victoriana!")